With the summer officially drawing to a close, it's a cool time of year to be ACTIVE! This week, Basel kicks off the Basel-Dreiland Mobilitätswoche (Mobility Week), dedicated to just about everything on wheels. From the Basel-Dreiland slowUP on 16 September, to the start of the Manor Run to the Beat Basel Marathon on 23 September, it's an all-out celebration of mobility in the modern world.
Car-less and Care-free
Leave your car at home and grab your bike, inline skates, or favourite walking shoes for the slowUP Basel-Dreiland http://www.basel-dreiland.ch/ (click here for info in English: http://www.basel.ch/en/highlights?act=detail&id=11783), a fantastically fun 60-kilometre course that runs through Basel, Northwest Switzerland, Alsace, and Southern Baden—three lands in one day. It's also conveniently divided into three separate legs of 20 kilometres each, so participants can customise their own courses. Festival areas and local restaurants and clubs along the way provide refreshment and a place to catch up with friends and meet some new ones too!
Mobilitätswoche
And that's just Day One. Each day of Mobitätswoche brings something unique, exploring forms of transportation both old and new—the WAVE (World Advanced Vehicle Expedition) electric vehicle rally from Italy to Holland that passes right through Basel, a night ride on E-Bikes, Monday Skate Night, the one-of-a-kind StreetStepper tour, panoramic tours of Basel on Tram Lines 15/16, special walking routes for pedestrians, and more…you can even try out the Vaxi (Velo + Taxi), a fully-functioning three-wheeler that will take you anywhere you want to go in the city. Curious? So are we! Get the full list of events and times here: http://www.mobilitaet.bs.ch/mobilitaetswoche2012.
Run to the Beat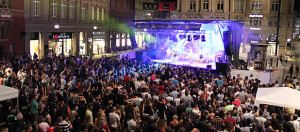 And when Mobility Week ends, the Marathon begins. Marking its 3rd year this Sunday, 23 September, the Manor Run to the Beat Basel is a city-wide marathon based on proven studies that runners perform better to music. Live bands are set up at different key points along the course, and each year a special guest performs a blockbuster concert the night before. Following in the footsteps of Swiss superstars Myron, who took the stage last year, 2007 MusicStar winner Fabienne Louves will be performing a free concert this year at Barfüsserplatz on Saturday, 22 September.
Want a preview of the marathon beats? You can download the official Run to the Beat song here: http://www.manorbaselmarathon.ch/de/rttb/en/entertainment/song.html—or order the Run to the Beat Album online: http://www.manorbaselmarathon.ch/de/rttb/en/entertainment/album.html.
Don't miss this entire week of fun in the great outdoors! What better way to ring in the fall season? 
Here are a few things you might want to know about…
SlowUP
-SlowUP takes place from 10 to 17 hrs. Entrance is free for all ages and you can join whenever you wish along the route. 
-As you will be passing over different borders, don't forget to bring your passport/ID! 
-You can download a map of the full course here: http://www.basel-dreiland.ch/fr/downloads/slowUp_Route_2012.pdf.
-For those not participating, don't forget some routes may be closed and tram schedules rearranged on the day of. You can find out more info on the BVB official website: http://www.bvb.ch/en/news/current-info/2012/09/11/test.
Manor Run to the Beat Basel Marathon
-Registration is still open online, and you can register Saturday and Sunday at the event for no added charge. 
-Fees for the marathon are based on how which course you choose—full marathon, half, Ekiden, or 1/6 Marathon. Click here for details: http://www.manorbaselmarathon.ch/rttb/en/rttb/categories.html