If the World Watch and Jewellery Show were a dessert, it would probably be Mr. Weininger's record-setting bejeweled chocolate pudding. And with its two-carat diamond and glittering gold leaves, it could easily be one of this year's creations at Basel's famed Messeplatz March 8-15. It is the top show of its kind in the world, highlighting the finest and the latest in luxury watches, jewels, and precious stones. Officially named BaselWorld since 2003, the eight-day showcase now draws almost 1900 exhibitors from 45 countries and a minimum of 100,000 visitors from 100 countries.
Only the best international designers come to BaselWorld, everyone from Patek Philippe, Gucci, Breitling, Rolex, Tissot, Casio, Citizen, Omega, Chanel, Tiffany & Co., and Longines, among others. And for many of these exhibitors, it is the only trade show they will attend. They come to network, to share their creativity, to unveil new designs and set trends. This is a crucial event for the industry, and not only for exhibitors. It's also where the world's best sellers shop, relying on buyers for retail dynasties such as Saks Fifth Avenue, Hamilton Jewelers, London Jewelers, and countless more.
But the show isn't just about showcasing — it's also social. After hours, the city opens up BaselWorld Village at Binningerstrasse, with restaurants, bars, and a variety of networking opportunities. It's a place where anyone can mingle, kick back after the show, and make new acquaintances.
So could such an exclusive show be open to the public? In Basel, the answer is yes. In fact BaselWorld has guest care down to a science, developing an entire service just for visitors. They offer accommodation on Basel's select hotel ships, berthed specifically for the event and complete with a shuttle service to Messeplatz; a Business Centre with internet access, as well as a Media Centre; a BaselWorld shop with a book store, Catalog Centre, and travel agency; and more. There is even a comprehensive BASELWORLD App available on their website where you can download a 3D map of the exhibition center, information on exhibitors and wares, and snippets from their BASELWORLD Daily News.
Tickets
Tickets are available on BaselWorld's website through an easy-to-use online ticket booth. You can download a pass all the way up to the last day of the show. Spend one day or attend all eight days.
For Visitors — Price and Tickets
One-day pass: CHF 60.-
Full show (eight-day) pass: CHF 150.-
Group passes for schoolchildren and students only are also available.
How to Get There
Basel's ideal central location in Europe makes it a very easy-to-reach destination. It is accessible by its international airport, multiple railway stations, its unbeatable public transportation system, and by car. You can find out more from these websites:
Airport
Railways
SBB, Swiss Railway Station
SNCF, French Railway Station
DB, German Railway Station
Public Transportation
BVB, Basel Public Transportation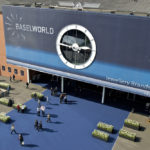 While at BaselWorld, you may notice parts of the exhibition hall being rebuilt — signs that building plans for expansion are right on track. The finished structure is expected to be completed by 2013 and will hold more floors, a new event hall, and a 'City Lounge.' Here you can see a video clip of what's being developed: baselworld.com/en-US/The-Show/BASELWORLD-2013.aspx.
No matter where in the world they come from, BaselWorld always brings together a variety of people from all cultures who share a common interest in all that ticks, tocks, sparkles, and shines. It's cultural, it's social, it's fashion, it's business. And whether you're in the industry or out, maybe a good deal of it is just plain fun.
Photo credit: By Baselworld