Easter is almost here and it's time to celebrate! If you're wondering how to celebrate the Swiss way, here are just a few ideas…
Easter Surprises
You'll probably hear the church bells ringing joyfully this Easter morning! It's traditional in Switzerland to attend church, followed by brunch or dinner and a family get-together. A typical Easter menu could include lamb with potatoes, pastetli (a meat pie with mushrooms and cream sauce), chicken in lemon thyme butter, fish with couscous and yogurt sauce, pork, or rabbit.
Most children—and adults—also look forward to an annual Easter egg hunt. Easter eggs (usually real eggs, not plastic) are normally painted the day before, and then in the morning are hidden outside in the park or garden, in the house, even inside boots and shoes!
And don't forget the Easter Bunny. Many children wake up on Easter morning to a magical nest or Easter basket filled with a chocolate bunny and candy eggs.
Easter Treats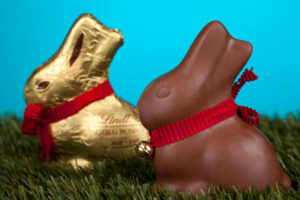 There are lots of Basel specialties to look forward to any time of year. Here's a quick guide to a few Easter favourites:
Biskuithässli and Biskuitlämmli: Bunny-shaped and lamb-shaped almond cookies with a delicate lemon flavour. Try the chocolate ones too!
Ostertauben: Pastry "doves" with candied fruit, hazelnuts, and almonds.
Osterfladen or Osterflädeli: A cross between a custard tart and a cake, often filled with rice pudding, speckled with raisins, and topped with frosting or powdered sugar. It can range from a very simple custard-like filling, to something more decadent with several layers of jam, cream, and nuts.
Praline Eier: Big candy eggs with a hard praline shell, filled with chocolates and decorated with piped frosting. These gourmet (and somewhat costly) praline eggs are given to close family and friends…a gift that tells a loved one just how very much they mean to you!
And everyone knows, Switzerland is the place to be for chocolate. Walk into any confiserie or bakery and you'll be overwhelmed by all the choices—chocolate bunnies, candy eggs, marzipan carrots. Migros and Coop sell plenty favourites as well, from Lindt to Cailler, to Milka and beyond!
Easter Extras
• Another fun event to check out is the Basel OsterTango, 17 – 21 April. Hosted by the Basel Tango School, the event brings everyone together for a colourful weekend of music and dance, with a Tango Concert and Show, AfterHour Tango, a special film presentation, DJs, and more. Stop by their website for tickets and more information: www.tangobasel.ch.
• In Switzerland, Easter Monday is a public holiday as well as Easter Sunday. It's another time when families and friends get together for more festivities, or just to relax. Just remember that some stores may be closed, but in a pinch you can find almost everything you need at the SBB train station shopping center.
• The forecast for Easter Sunday is mostly cloudy and 20º (68º F). (But mostly cloudy could be called partly sunny, right? : )
What are some of your favourite Easter traditions?
Happy Easter from Basel Community!