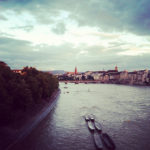 What: Official Basler Rheinschwimmen 2012
When: August
Where: Starts at Schaffhauserrrheinweg 93 and ends at Höhe Leuengasse/Johanniterbrücke.
Thousands of swimmers gather from around the city to join in an annual fun-filled float along the Rhein River. A much loved tradition, you can expect to find the Rhein teeming with buoys, swimmers, and balloons as everyone celebrates another summer cruising past river banks and under bridges, seeing Basel in a completely new way.
A few things you may need: a "Schwimmsack" or swim bag, where you can keep dry clothes to change into after your swim (it also doubles as a float—available at MMM Claramarkt and MParc Dreispitz) and some good swim shoes. As always, be cautious—watch out for bridge piles and strong currents. And bring your friends! You know what they say…never go swimming alone.
Photo credit: RTEMagic