Photo by knickinoptik // Flickr.com

With the summer comes culture—lots of it. Although a creative art-loving community year round, there's something about this season that brings an even greater abundance of music, imagination, and expression to this city on the Rhein. Whether in film, concerts, festivals, or fireworks, Basel lights up with brilliant, colourful, exuberant life.
Orange Cinema: 26 July – 22 August
The Orange Cinema is one of the best loved summer events in Basel. Taking place every year at Münsterplatz, it's almost a full month of box-office hits, international and independent films, and of course, great food—all in open air, under the moon and stars. Just a few of this year's features are Cinema Paradiso on Opening Night (26 July), The Sapphires, Argo, Breakfast at Tiffany's, and Les Misérables. You can see the full program here.
If you're an Orange customer, bring a friend for free on Tuesdays with their 2-for-1 movie ticket offer—just text OCINEBS to the number 241. For an extra special movie night, you can watch the film from Zum Isaak restaurant, right on Münsterplatz. Reserve your table and seats online, enjoy a wonderful dinner, and then kick back with a glass of wine for your feature film. Click here to reserve seats.
ImFluss: 30 July – 17 August
If this is your first summer in Basel, you're probably wondering about the barge out in the middle of the Rhein. But it won't take long to discover that the raft is an integral part of what makes summer in Basel, summer in Basel.
It's the iconic stage for ImFluss (meaning "in the flow"), an annual concert series hosted on the Rhein that draws all kinds of local, national, and even international performers to the city. It's an eclectic mix of music, something for everyone, and always lots of fun. Bring friends and come early to get a seat on the steps by the river. Concerts are generally free, but you'll see "crew" dressed in nautical shirts and hats pass through the crowd with big nets, gathering tips for the artists. They'll appreciate your appreciation!
Four days and counting… Watch the countdown!
National Day Celebration: 31 July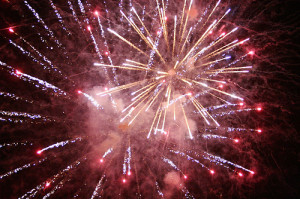 Maybe the highlight of the season is Swiss National Day, August 1. Typically celebrated on the evening before, it's a citywide, all-out party with all the trimmings: live music, Wienerli and Basler Brot, stands and stalls, water sports, and of course fireworks. The festivities run from 17.00 to 02.00 the following day, and the firework show starts at 23.00 on the Rhein, engineered from two boats on either side of the Mittlere Brücke. Usually you'll know the show has come to a close when you see the smiley face fireworks! Stop by www.basel.ch for more info.
It's recommended to use public transportation on festival days. Just be sure to check the tram and bus schedules as they change on holidays. You can find more information on the BVB website.
Also, don't miss the last few days of…
Tattoo Basel: 19 – 27 July
The Tattoo Basel, one of the world's largest tattoos, is an impressive showcase of musical mastery, precision, choreography, and spirit held at the Basel barracks—a magical mix of bagpipes, brass, and of course drums, amid fireworks and lots of applause. The Basel Tattoo Parade will be winding through Basel's main streets this Saturday, 27 July. Visit their website for more information and video previews.
Stimmen-Festival (Voices Festival): 4 – 28 July
With musical legends such as Bob Dylan, Leonard Cohen, and Lenny Kravitz, the Stimmen-Festival makes it possible to see some of the world's best singers, musicians, and songwriters without ever leaving the region. Now in its 20th year, the festival proves that good things do in fact come in threes…or at least, with the number 3 in them: 30 concerts over the course of 3 and a half weeks for more than 30,000 visitors. It's all styles of music, from all countries, for all music lovers. This week (the festival's final week), you can catch Gudrid Hansdóttir, This Is the Kit, Bob Geldof, Lucas Santtana, and many more. Find more information here.
And this is just the beginning! More exciting festivals and special events are just around the corner in August…
What do you love most about summer days and Basel nights?