vox fabulae is all about stories. These stories are told through music and words, and the words are in English. The Basel-based group blends theater and concert and attracts audiences of Swiss and expatriates alike.
At the center of the performances is the storyteller, played by Madeline Del Real. The American actress grew up in Basel and studied in New York and London. Through imaginative staging and an expressive voice she brings to life not only the central narrator but all the other characters who pass through the tales. "I always strive to take part in diverse expressions of theater, and collaborate with different types of artists," she says of working with vox fabulae.
The other members of the group are musicians. The music is not meant as background but instead tells the story in its own way. Flutist Micaela Grau Durán coaxes melodies, whistle tones, and rustling breath effects out of her instrument. A contemporary music specialist, she is a founding member of Ensemble Lemniscate and studied both in Basel and in her native Argentina. Flute is accompanied by piano, played by Rebekkah Laeuchli using chopsticks, sticky tack, and a right-angle screwdriver in addition to the traditional fingers on keys approach.
All of the stories are created by the members of vox fabulae themselves. Elia Navarro from Barcelona is the resident composer and sound artist. She currently attends the Basel school of art while also studying composition with Erik Oña at the music academy.
"I am very excited about being part of the ensemble," says Navarro. "This way of telling stories through different media is totally open and there is a lot of space for experimentation."
The ensemble debuted their first full-length performance in a concert series this past May with two stories, The Spring and She, I. The texts were written by the group's pianist, Rebekkah Laeuchli, and ranged from surreal to humorous to tragic. This summer the ensemble will be working together on new material for their upcoming concert season in autumn.
"We want to do something a little bit different," says Laeuchli. "Funny, and bizarre. We're very excited about this next story."
Catch vox fabulae's next performance on 19 November at a B4 Office Concert, produced by the Swiss Foundation for the Vocal Arts. The concert is free and begins at 12:30 at Bernoullistrasse 4. For more information visit the ensemble's website: www.voxfabulae.com.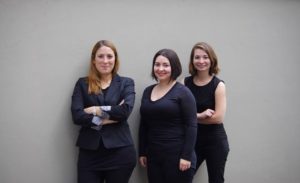 Ensemble members:
Elia Navarro, composer and sound artist. Rebekkah Laeuchli, writer and pianist. Madeline Del Real, actor.
Micaela Grau Durán, flutist.
_______
Contact Information:
www.voxfabulae.com [email protected]
https://www.facebook.com/voxfabulae
Tweets by voxfabulae