Fall is a time like no other in Basel…
The air is brisk, the shops and cafes turn cozy, everything starts to smell like cinnamon, and you get that distinct feeling that Christmas is just around the corner. And in this atmosphere begins the Basler Herbstmesse, the annual fall festival that draws around one million locals and visitors from all over the world. The oldest fun fair in Switzerland, this year's 544th festival runs from Saturday, 24 October, to Sunday, 8 November—all around the city!
The two-week Herbstmesse (Herbschtmäss) begins with the official ringing in at noon, kicking off a cultural rendezvous that is a combination of tradition, art, and just plain fun. The fair's unique layout stretches the festivities throughout the city, and there are plenty of stands to explore all kinds of handmade crafts, clothing, toys, and more. You can find rides no matter where you go—spinning, whirling "chairoplanes," 'Super Chaos' at Kasernenareal, or 'Sky Flyer' in its first ever appearance at Barfüsserplatz. Or you can celebrate the 'Super 80s' at Hallenmesse am Riehenring with 'Round-Up' or 'Break-Dance.'
The giant Ferris wheel at Münsterplatz reaches all the way to the rooftops of Basel's historical buildings—giving an incredible panoramic view of the city and the Rhein River—and is a Münsterplatz must (at least once!)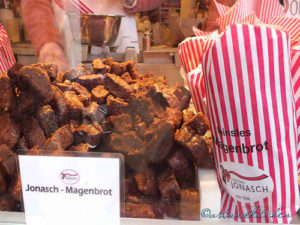 Another major part of any festival in Basel is the cuisine. A few all-time favourites are Magenbrot, a unique Swiss chocolatey gingerbread, and hot Rosekiechli, delicious flower-shaped fried pastries sprinkled with powdered sugar. You'll also find chocolate-dipped fruit kebabs with all kinds of fresh fruit—pineapple, bananas, strawberries, and more.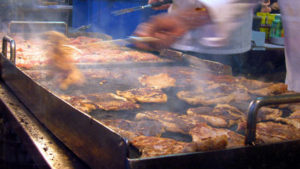 Keep an eye out for Jeffrey's schnitzel stand (started by the owner of the very popular Jeffrey's Thai Restaurant in Riehenring), which sells gourmet sandwiches back where it all began.
More highlights are the Hääfelimäärt at Petersplatz, showcasing beautiful ceramics in unlimited shapes, colours, and sizes; the Basler Weinmesse (24 October to 1 November) at the Messe Basel, featuring around 5000 wines from more than 20 countries all over the world; the Basler Feinmesse (29 October to 1 November) for sweet and savoury treats; and the Herbstwarenmesse (October 24 to 1 November), with special deals on products from household goods to electronics to sports. And as the Herbstmesse changes from year to year, you never know what else you might find.
Wherever you are in Basel, you'll notice that Herbschtmäss is a magnet for bringing together people of all ages to enjoy, to experience, and to make memories. Bring your friends, make some new ones, or bundle up your kids and take your family out for some fall fun!
Festival Hours
Sunday – Thursday: 12.00 – 22.00
Friday – Saturday: 12.00 – 23.00
Stop by www.visitbasel.ch for more info, or find Basler Herbstmesse on Facebook at facebook.com/baslerherbstmesse.
*As always with fairs, keep your children and other valuables close! Check out Ask Heidi: A Question of Pickpockets.
Feature Photo by eLjeProks via Flickr